Press
Release
The Smile Alchemist for PC & Consoles: Follow the growth of a young alchemist aiming to become the best in the world!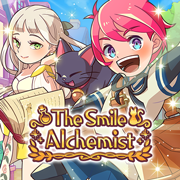 March 3, 2023 - KEMCO proudly announces the release of The Smile Alchemist for Xbox consoles, including Xbox Series X|S, Xbox One and Windows devices, Steam™, PlayStation®5 / PlayStation®4 (supporting Cross-Buy) and for the Nintendo Switch™ family of systems set to hit each regional storefront by today. Standard price is USD 19.99. Please visit each storefront for available launch promotions
Overview
In Polta Kolta, a town where humans and beasts live together, the young Nayc becomes an apprentice and is training hard under the famous alchemist. His aim is to become the best alchemist in the world for a promise made with his precious friend, but a matter of great concern is worrying him...

The Smile Alchemist is an alchemist simulator containing the fun elements of character development, collection and above all not to forget alchemy!
Features
- An entertaining and heart-warming story driven plot
- Many characters and subquests appearing during the main story
- Additional side story besides the main route
- Collection and completion elements throughout the game based on fictional alchemy recipes and synthesis simulation
- Develop and run your alchemy listing in the shop
- Funny mini-game to collect materials, and more!
Age Ratings
ESRB Everyone: Alcohol Reference, Mild Blood, Mild Language
PEGI 3
Screenshots
Links
Official Page | Microsoft Store | Steam Store | Nintendo Website (US) | Nintendo Website (UK) | PS5/PS4 | Official Trailer (Steam) | Official Trailer (PS) | Official Trailer (Xbox) | Contact Us

Tweet Like!

Share

© 2021-2023 Asobox Co.,Ltd. Published by KEMCO.
© 2023 Valve Corporation. Steam and the Steam logo are trademarks and/or registered trademarks of Valve Corporation in the U.S. and/or other countries. All rights reserved.
Nintendo Switch is a trademark of Nintendo.