Press
Release
RPG Sword of Elpisia for iPhone/Android™: A fantasy RPG about a girl turned into a magic sword and its price!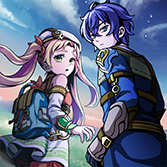 August 19, 2021 - KEMCO proudly announces the release of Sword of Elpisia set to hit the Google Play Store™ and App Store today. Standard price is $7.99 for Google Play, $6.99 for the App Store. A freemium edition with in-game ads that can be removed through in-app purchases is also made available on Google Play in selected countries.
Overview
From a strange meeting between Aldo, a young man who makes his living repairing magitools, and Alice, a girl, all alone with no family, a journey to find a place to live begins.
The sorrow of a girl who became a Magisword
On Terra, a world whose civilization developed thanks to magitools, there are frequent cases of people being turned into Magiswords. Alice, a girl who is traveling with Aldo, the main hero, chooses to become a Magisword to rescue her friends. She becomes Aldo's sword, and throws herself into battles.
Magiswords, and great ambition
Walking alongside Aldo and Alice are...
Nate, a traveler whose lover was turned into a Magisword.
Ariel, a Magisword owner searching for her missing parents.

Is their meeting a strange encounter orchestrated by the Magisword? Or is it a predetermined fate?

One who fights back against the Magiswords...
One who plans to use the Magisword to conquer the world...
One who brings forth Magiswords...

The battles over the Magiswords are just beginning...
High-definition battles using Magiswords
Magisword skills and weapon skills need AP! Will you use Charge to completely restore AP? Or will you continue to attack the enemy without any let-up? Throw yourself into the beautiful, complex battles, using Magiswords with up to three weapons set!
The overwhelming charm of dot graphics
Towns that really make you feel the lives of the residents... Battle scenes that really draw you in... A single-player JRPG! In an intricate world of dot graphics, you can enjoy the story right to the end, without having to complete with others!
So many enjoyable elements
・Become buddies with a pet, for advantages in battle!
・Get large numbers of items from huge treasure chests!
・Levels up to 999! Weapon strengthen values also up to +999!
・Fun elements after you finish the winding path to the end of the game!
...And many other elements to enjoy!
Screenshots
Links
Official Page | Official Trailer | Contact Us

Tweet Like!

Share




© 2021 KEMCO/EXE-CREATE
App Store is a service mark of Apple Inc.
Apple, the Apple logo, iPhone and iPod Touch are trademarks of Apple Inc., registered in the U.S. and other countries.
Android, Google Play and the Google Play logo are trademarks of Google LLC