Press
Release
Black Friday & Cyber Monder Sale - Huge discounts galore!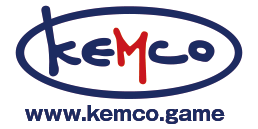 November 22, 2018 - KEMCO proudly announces a special sale of 11 RPGs for Steam, Nintendo Switch and Nintendo 3DS! Save up to 50% during Black Friday & Cyber Monday!
*If the content is not displayed correctly, please visit the press release here.
Titles Available
- Alphadia Genesis (Steam)
- Antiquia Lost (Steam)
- Asdivine Hearts (Steam)
- Dragon Sinker (Steam, Nintendo Switch, Nintendo 3DS)
- Revenant Saga (Steam)
- Tears Revolude (Steam)
- Yōdanji (Steam)
- Fernz Gate (Steam)
- Revenant Dogma (Steam)
- Journey to Kreisia (Nintendo 3DS)
- Bonds of the Skies (Nintendo 3DS)

Notes
The sale will be available in the regions which officially support the Steam store, the North American, European and Australian Nintendo eShop, with the price shown in each respective currency.
Please check the price on your device before purchasing.

All materials on this page are copyrighted by KEMCO and its partners.