Press
Release
RPGolf Legends for PC and Consoles: Pre-order & wishlisting is available from today on Xbox, Nintendo Switch™, PS5™&PS4™ and Steam™!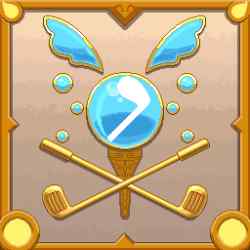 January 6, 2022 - KEMCO proudly announces the release of RPGolf Legends for Xbox consoles, including Xbox Series X|S, Xbox One and Windows 10 devices, Steam™, PlayStation®5 / PlayStation®4 and for the Nintendo Switch™ system set to hit each regional storefront on January 20th, 2022. You can pre-order on the Microsoft Store, Nintendo eShop starting today! The Nintendo Switch version will have a 20% off limited discount during the pre-order period. The Steam and PS5™&PS4™ versions are also available for wishlisting.
Story
An evil force has sealed all the golf holes in the world! Join forces with the spirit of a golf club and embark on a fantastic action-golfing adventure to save golf in the world! Ride a ship, an airship and sometimes even golf carts to travel around a unique world where monsters and golf coexist!
Features
- A total of 54 holes to enjoy in six unique environments
- Play golf tournaments and match plays against NPCs
- Fight formidable foes using …golf clubs!
- A unique class system featuring unique skills and look
- Dungeons to explore and golf puzzles to solve
- An open world full of characters and different quests to complete
- Go around the world fishing, crafting, exploring and a lot more!
Age Ratings
ESRB Everyone 10+: Alcohol Reference, Fantasy Violence, Mild Language
PEGI 7: Mild Violence
Specification
■ Title: RPGolf Legends
■ Genre: RPG, Golf, Action
■ Release Date: Jan 20th, 2022
■ Price: USD 29.99, EUR 29.99
■ Platforms: PlayStation®5, PlayStation®4, Nintendo Switch™, Xbox Series X|S, Xbox One, Steam™
■ Format: Digital Download
■ No. of Players: Single Player
■ Supported Languages: English, French, Spanish, Italian, German, Japanese, Chinese (Simplified & Traditional)
■ Territories: North America / Europe / Asia
About ArticNet
ArticNet LLC. is an indie developer studio based in Japan established in 2013 and have been developing the RPGolf franchise. The company is not only developing games, but also specialized in web development, application development, consulting. https://articnet.jp/
Screenshots
Links
Press Kit | Official Page | Trailer (PC) | Trailer (Xbox) | Trailer (PS5/PS4) | Trailer (Nintendo Switch) | Microsoft Store | Steam Store | PS5&PS4 (US) | PS5&PS4 (UK) | Nintendo Website (US) | Contact Us

Tweet Like!

Share


© 2020-2022 ArticNet LLC. Published by KEMCO.
© 2022 Valve Corporation. Steam and the Steam logo are trademarks and/or registered trademarks of Valve Corporation in the U.S. and/or other countries. All rights reserved.
Nintendo Switch is a trademark of Nintendo.