Press
Release
RPG Overrogue for iPhone/Android™: A card deck-building roguelite! Explore labyrinths each time from level 1!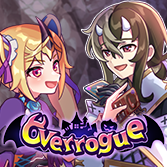 January 13, 2022 - KEMCO proudly announces the release of Overrogue set to hit the Google Play Store™ and App Store today. Standard price is $7.99 for Google Play, $6.99 for the App Store. A freemium edition with in-game ads that can be removed through in-app purchases is also made available on Google Play in selected countries.
Overview
Proceed through dungeon-like labyrinths building up your card deck in a roguelite style! There are up to 5 different labyrinth themes based on card genres like poison or graveyards. Enjoy a different deck experience each time you visit the labyrinth as the number of cards increases. Over 300 types of cards and 150 types of treasure await you, so combos and combinations are up to you.
Labyrinths
There are more than 10 Labyrinths in total. Each Labyrinth features various squares, such as battle squares, event squares, and card shop squares! Aim to clear Labyrinths by heading to the deepest part, defeating enemies as you go. Enemies have different characteristics in each Labyrinth.
Themes & Decks
Attempt Labyrinths with a theme chosen from a maximum of 5. There are many card game-like themes, such as themes that utilize poison, and themes that utilize graveyards! The number of cards in the deck increases in the Labyrinths, so enjoy a different deck experience each time!
Cards & Treasure
Over 300 types of cards and over 150 types of treasure bring special effects to the party. Infinite combinations and combos will stimulate your imagination! Use the cards you have gained to create a deck with an original concept, such as a deck that maximizes attack power, or a deck that competes in terms of its turnover rate.
The Overlord Selection Battle
A long and amusing story set in the underworld, in which you aim to be victorious in the Overlord Selection Battle along with Sael, the son of the Overlord.
In the underworld, where creatures of all shapes and sizes live, a Selection Battle is announced to decide the next Overlord. Complete labyrinths and collect crystals to achieve the title of Overlord!
Age Ratings
ESRB Teen: Fantasy Violence, Use of Alcohol, Crude Humor | In-Game Purchases (Includes Random Items)
PEGI 7: Mild Violence | In-Game Purchases (Includes Random Items)
Screenshots
Links
Official Page | Official Trailer | Contact Us

Tweet Like!

Share




© 2021-2022 KEMCO/EXE-CREATE
App Store is a service mark of Apple Inc.
Apple, the Apple logo, iPhone and iPod Touch are trademarks of Apple Inc., registered in the U.S. and other countries.
Android, Google Play and the Google Play logo are trademarks of Google LLC