Press
Release
RPG Jinshin for iPhone/Android™: Join the clan of sword mastery and wisdom in an ancient fantasy JRPG tale!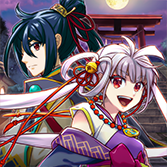 December 22, 2022 - KEMCO proudly announces the release of Jinshin set to hit the Google Play Store™ and App Store today. Standard price is $7.99 for Google Play, $4.99 for the App Store. A freemium edition with in-game ads that can be removed through in-app purchases is also made available on Google Play in selected countries.
A Story of Kami Living Alongside Humans
Long ago in a corner of the land of Asuka stood the Amaterasu Clan, a group of warriors who smite forces of evil with blades of justice. The Amaterasu Clan is joined by a young man. A man of sword mastery and wisdom, Mikazuchi, joins forces with the Amaterasu Clan's Sword Master, Hinoko, to save his master from Onigami Ichigan. When the war is done, will peace or chaos reign supreme?
Battles Full of Ambiance and Strategy
Turn-based combat in which the agile attack first. Make use of tactician Mikazuchi's orders to gain powerful formation effects to turn the tide of battle.
Smithy
With the blessing of Hinoko, a Tsukumo Kami of blacksmithing, use materials to craft weapons and armor. Use rare materials to craft something great as quickly as possible! Crafting is done via the menu, accessible anytime and anywhere.
Unlock Kami Arts
Each weapon type comes with extremely powerful Kami arts. They are usable once the gauge is full.
Learn Arts from Tsukumo Kami
Magic arts can be learned from Tsukumo Kami hiding all over the world. While some will ask for items in return, they may teach even more powerful magic arts!
Develop Village Through Commands
Undertake commands from Tatara Village not only to receive rewards, but also to learn new crafting formulas and develop the village.
Age Ratings
ESRB Teen: Fantasy Violence, Partial Nudity, Use of Alcohol | In-Game Purchases (Includes Random Items)
PEGI 7: Mild Violence | In-Game Purchases (Includes Random Items)
Screenshots
Links
Official Page | Official Trailer | Contact Us

Tweet Like!

Share




© 2022 KEMCO/EXE-CREATE
App Store is a service mark of Apple Inc.
Apple, the Apple logo, iPhone and iPod Touch are trademarks of Apple Inc., registered in the U.S. and other countries.
Android, Google Play and the Google Play logo are trademarks of Google LLC