Press
Release
RPG Justice Chronicles for Nintendo 3DS™: Ultimate old-school adventure lands with the return of the Guardian Beasts!

March 31, 2016 - Higashihiroshima, JAPAN - KEMCO proudly announces the release of Justice Chronicles for Nintendo 3DS set to hit the Nintendo eShop today. Standard prices are USD 9.99 / EUR 9.99 / GBP 8.99 / AUD 13.00.
Story
Kline, an apprentice High Beast Knight is sent undercover into Laft, the Earth-Depths, in advance of a looming war. He comes across Alia, a Battle Maiden who has suffered terrible injuries and is close to death, and to help her, he forms a partnership with the God of Death, Rooselevy. He gains great power, but in return he must give up his life. This is the condition of the partnership with Rooselevy.
The Earth-Depths and the Earth-Surface... Blood-soaked battles and swirling intrigue... The characters wield unknown power, but will they each be victorious over their own destinies?
40 hours of gameplay
Terrible battles awash with blood, history-shaking intrigue, checkered fate with numerous ups and downs... 'Grand' doesn't even begin to describe the unprecedented length and sheer volume of this game. Enjoy an adventure which captures the essence of a role-playing game!
High Beasts, Guardian Beasts, and bonds between allies
High Beasts and Guardian Beasts help their partners with dramatic strength. They are trustworthy characters, who protect their partners and fight alongside them. By strengthening bonds between allies who are party members, the High Beasts and Guardian Beasts, the strength of the party rises steadily, and even the most powerful enemies can be defeated.
A large range of fostering elements
One of the many attractions of the game is the wide range of fostering elements. Collect materials to strengthen and craft weapons, grow Magic Meteorites to obtain stronger magic, learn new skills, and so on. There are materials scattered all across the wide world. Find them, and collect them!
Screenshots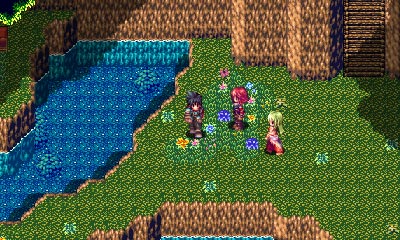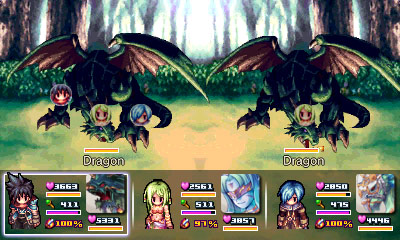 Links
Nintendo Website US | Nintendo Website UK | Official Page | Opening Movie | Official Trailer | Contact Us

Tweet Like!

©2014-2016 KEMCO/Hit-Point
Nintendo trademarks and copyrights are properties of Nintendo.