Press
Release
Isekai Rondo for PC & Consoles: Quest for a parallel universe after being reborn with the ultimate job!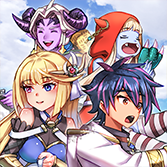 September 15, 2023 - KEMCO proudly announces the release of Isekai Rondo for Xbox consoles, including Xbox Series X|S, Xbox One and Windows devices, Steam™, PlayStation®5 / PlayStation®4 (supporting Cross-Buy) and for the Nintendo Switch™ family of systems set to hit each regional storefront today. Standard price is USD 14.99. Please visit each storefront for available launch promotions.
Story
Sho, a young man who spends his days in an exploitative company in modern Japan, is reincarnated into parallel universe as Shaw, due to an accident! Of all things, the job given to Shaw after reincarnation is 'Unemployed'. Furthermore, what awaits him are days of hardships at a party with bad luck. However, through the power of a strange stone monument, he acquires the high-level job of 'Sage'! He also masters UR Passives, and suddenly becomes stronger than anyone! Although Shaw is aiming for the mellow life he's always wanted, after meeting the Hero Viola, he starts to work to suppress the Overlord.
Become unmatched with the strongest UR Passives!
Everyone has always-activated Passives. Shaw learns large numbers of powerful Passives, such as 'Future Movie' (which allows him to prepare for the enemy by looking at the future victory or defeat in his brain) or 'Accident Insurance' (which allows him to return to just before Game Over and change the future)!
Passives are super-useful even in battles!
The party members can also learn various Passives. In addition to being useful in many ways to progressing through the adventure smoothly, Passives also play a major role in battles, such as 'Spirit Summoning', which calls a Spirit into battle, 'Mana Management', with which you can gain useful effects from plants you have grown from bulbs, and 'Monster Skill Acquire', with which you can eat monster materials and use their skills!
Aim for Guild Rank S!
By completing quests you take on from the Guild and raising your party rank, you can attempt deeper levels of the Dungeon. Raise your rank to S, and even the suppression of the Overlord is not out of your reach! There are many parties active in various places, and you can enjoy your encounters with them.
Aim for the mellow life you've always wanted...
There are plenty of elements that you can enjoy no matter how many times you try, such as an arena where fierce fighters gather, and the Dungeon, where treasure chests are automatically generated. Can you defeat the Overlord's Army, which performs suspicious activities and is known as the most evil, exploitative organization in the other world, and gain a calm, modest life?
Age Ratings
ESRB Everyone 10+: Fantasy Violence, Mild Blood, Suggestive Themes, Use of Alcohol, Mild Language | In-Game Purchases
PEGI 12: Moderate Violence | In-Game Purchases
Screenshots
Links
Official Page | Microsoft Store | Steam Store | Nintendo Website (US) | Nintendo Website (UK) | PS5/PS4 | Official Trailer (PS) | Official Trailer (Xbox) | Contact Us

Tweet Like!

Share

© 2022-2023 KEMCO/EXE-CREATE
© 2023 Valve Corporation. Steam and the Steam logo are trademarks and/or registered trademarks of Valve Corporation in the U.S. and/or other countries. All rights reserved.
Nintendo Switch is a trademark of Nintendo.