Press
Release
Isekai Rondo for PC & Consoles: Pre-order begins on Xbox & Nintendo Switch! Reborn in a parallel world with the greatest class!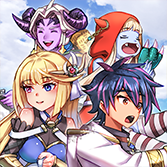 September 8, 2023 - KEMCO proudly announces the release of Isekai Rondo for Xbox consoles, including Xbox Series X|S, Xbox One and Windows devices, Steam™, PlayStation®5 / PlayStation®4 (supporting Cross-Buy) and for the Nintendo Switch™ family of systems set to hit each regional storefront on September 15, 2023. You can pre-order on the Microsoft Store and Nintendo eShop starting today! The Steam™, PS5 and PS4 versions are also available for wishlisting.
Overview
Sho, a young man who spends his days in an exploitative company in modern Japan, is reincarnated into a parallel universe as Shaw, due to an accident!

While the job given in his new life is 'Unemployed' and hardships continue with a bad luck party, one day he acquires the ultimate job as a Sage, suddenly becoming the strongest with ultra rare passive skills!

Aiming for the long-awaited mellow life he finds himself in a battle to defeat the Overlord after meeting the Hero Viola.

With exceptional passive skills that for example can change the future by returning before Game Over, get rid of enemies in turn-based battles by summoning spirits or managing mana plants, or even use the skills of monsters!

Complete quests and raise the guild rank so you can challenge deeper dungeon or other adventuring parties, too! With other elements such as a battle arena and the dungeon where treasure chests are automatically generated, your adventure against the Overlord's Army will surely be an unparalleled quest to finally gain a calm, modest life!
Age Ratings
ESRB Everyone 10+: Fantasy Violence, Mild Blood, Suggestive Themes, Use of Alcohol, Mild Language | In-Game Purchases
PEGI 12: Moderate Violence | In-Game Purchases
Screenshots
Links
Official Page | Microsoft Store | Steam Store | Nintendo Website (US) | PS5/PS4 | Official Trailer | Contact Us

Tweet Like!

Share


© 2022-2023 KEMCO/EXE-CREATE
© 2023 Valve Corporation. Steam and the Steam logo are trademarks and/or registered trademarks of Valve Corporation in the U.S. and/or other countries. All rights reserved.
Nintendo Switch is a trademark of Nintendo.