Press
Release
RPG Grace of Letoile for iPhone, iPad & iPod Touch™: Fight with automated battle dolls and control time!
March 5, 2015 - Hihashihiroshima, JAPAN - KEMCO proudly announces the release of Grace of Letoile set to hit the App Store™ today. Standard price is $7.99, but to celebrate the release it is made available for just $3.99.
Story
Letoiles are unusual automated dolls with a special ability, the ability to control time. Whoever is victorious in the battles to steal the Sertzes, the cores of the Letoiles, can have any wish come true. Vedley is a young man who decides to make a pact with the first of the Letoiles, and to take part in these games in order to try and bring his parents, who he lost when he was only a child, back to life. In the fierce battles, the hopes and ambitions of the participants are each laid bare, and interact with each other. So... Let the battles begin!
Those who can control time will be victorious in battles
The Chronos Gauge adds a fresh new aspect to the standard 2D battles. You can make use of the Gauge to employ skills, or to change the order of the characters' actions in order to attack more effectively. Take advantage as much as you can of the Letoiles' ability to control time!
Replenish the Gauge effectively
The level of the Chronos Gauge decreases each time a skill is used or the order of the characters' actions is changed. The glowing number on the Gauge moves each time an action is performed. If you can use a skill corresponding to the glowing number, you can make the level of the Gauge recover by a huge amount! There are so many ways to use the Chronos Gauge, depending on the tactics you've chosen!
Make use of Skill Plates
Fit a Skill Gem into a Skill Plate, and let your character take advantage of the special power of the Gem to use magic or a skill! Combine Gems to allow characters to use special skills! Rotate the Skill Plate to change with a touch which skills correspond to which numbers on the Chronos Gauge!
Screenshots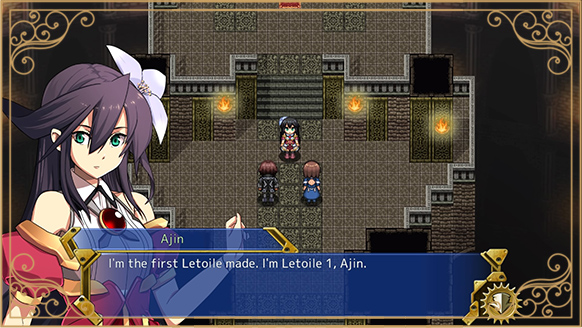 Links
Official Page | Official Trailer | Contact Us

Tweet Like!


©2014 KEMCO/MAGITEC
App Store is a service mark of Apple Inc.
Apple, the Apple logo and iPhone are trademarks of Apple Inc., registered in the U.S. and other countries.