Press
Release
RPG Ghost Sync for iPhone/Android™: A fateful RPG involving a magical lady and a spirit of a man possessing a dog!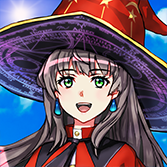 February 18, 2021 - KEMCO proudly announces the release of Ghost Sync set to hit the Google Play Store™ and App Store today. Standard price is $7.99 for Google Play, $6.99 for the App Store. A freemium edition with in-game ads that can be removed through in-app purchases is also made available on Google Play in selected countries.
Story
A world infested with savarians, devoured by black aura. Lily, a young magic swordswoman, is on a journey to defeat savarians. In a village she calls in at, she confronts savarians, and thus begins a strange meeting. One savarian changes into the calm spirit of a dog, and starts to speak. There is a young man possessing the spirit of the dog. The young man, whose name is Bernard, is like a soul, with no actual body. This is the beginning of the story of the young woman, the spirit of the dog, and the soul of the young man. Why is the young man a ghost? What is the fate that awaits the young woman on her journey?
Possess Looming Enemies!
Bernard, a young man without an actual body, can possess savarians he encounters on his journey. Possess powerful enemies, and turn battles to your advantage.
Summon Spirits with Special Rings!
By wearing as equipment a summoning Ring made with special treasure, you can summon various spirits, for attack, recovery, etc. When the time is right, summon a spirit and overcome the danger.
Raise Ranks by Completing Missions!
In the Guild, there are many requests from people. Raise your Contribution by completing missions, suppressing savarians, etc. and aim to raise your Guild Rank.
Strengthen Skills with the Skill Tree!
By using Spirit Stones, which are crystallized aura, you can learn powerful skills. By learning the skills you want, your journey will be easier.
Create Powerful Weapons!
Synthesize materials, and create powerful weapons and armor. You can make your own original equipment as you wish, by means of special applied effects.
Gain Items by Completing the Enemy Catalog!
There are more than 200 types of savarian in the story. With the award system, the more of them you defeat, the better the items you can gain.
Snappy Battles with Auto Battles!
The game features auto battle, conducted according to tactics, and battle speed adjustment. With easy controls, you can raise your level in leaps and bounds.
Screenshots
Links
Official Page | Official Trailer | Contact Us

Tweet Like!

Share




© 2020-2021 KEMCO/EXE-CREATE
App Store is a service mark of Apple Inc.
Apple, the Apple logo, iPhone and iPod Touch are trademarks of Apple Inc., registered in the U.S. and other countries.
Android, Google Play and the Google Play logo are trademarks of Google LLC